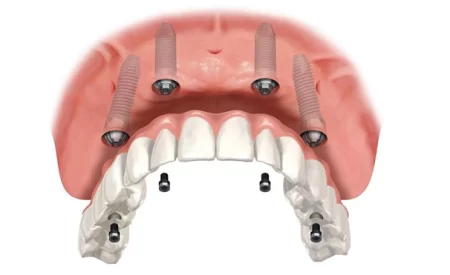 🦷 Discover the Power of All-on-6 Dental Implants 🦷
Dental implants, these remarkable titanium screws, have the potential to replace one or more missing teeth, and they operate as efficiently as natural teeth roots within the jawbone. After surgery, they remain concealed, offering a seamless solution to tooth loss.
🌟 **Smile Antalya Titanium Implants** 🌟
Our All-on-six implant technique presents an innovative surgical remedy for patients who have experienced significant tooth loss, often leading to ill-fitting dentures. Instead of four implants, the All-on-six approach involves precisely placing six dental titanium implants at strategic angles and positions. These implants serve as a robust foundation for a natural-looking, stable, and permanently fixed full bridge (secured by six jaw implants). The result? Functionality and bite quality akin to natural teeth.
🌟 **All on 6 Dental Implants** 🌟
Many of our patients have faced tooth loss due to injuries or declining oral health, impacting their self-confidence and smile. At Smile Antalya , we're dedicated to helping you regain your self-assurance and smile freely with our All-on-6 dental implants. Our commitment to providing top-notch treatments at affordable prices sets us apart.
**The All-on-6 Procedure**:
1️⃣ **Consultation**: Our specialist team, begins with an initial consultation to assess your suitability for All on 6 procedures. We delve into your medical history and provide an in-depth explanation of the procedure.
2️⃣ **Implant Placement**: The All on 6 procedure consists of surgery and dental prosthesis processes. While it can be comfortably performed under local anesthesia, we also offer sedation at additional cost for anxious patients.
3️⃣ **Recovery**: After implant placement, the crucial recovery phase begins. While pain levels may vary among patients, prescription painkillers can be provided if needed. Expect some gum bleeding in the initial days, followed by swelling. Medications will be prescribed to manage swelling, and any discoloration typically subsides as healing progresses.
Healing, taking 3-4 months, involves new bone formation around the implants. During this period, a temporary soft foods diet is recommended to avoid placing excessive force on the implants, ensuring proper fusion to the jaw. Once fusion is complete, your permanent dentures can be designed.
**All-on-6 vs. All-on-4 Dental Implants**: Curious about the difference? All-on-6 utilizes six implants, providing a stronger and more stable foundation for your prosthetic dental arch. This results in a longer-lasting and more comfortable smile. Additional implants not only enhance your bite but also strengthen the surrounding bone. The choice between All-on-6 and All-on-4 depends on your unique jawbone condition, which our professional team assesses during a thorough  X-Ray , consultation and examination.
**Success Rate**: Published studies demonstrate a remarkable success rate, with 98.2% for lower arch and 97-98% for upper arch with All-on-6. While it's a fantastic solution, individual factors such as periodontal disease, health conditions, smoking, or placement issues can influence outcomes.
Ready to transform your smile? Contact our dedicated team at Smile Antalya, where excellence meets affordability. 😁🇹🇷 #Allon6DentalImplants #SmileAntalya #SmileConfidently
IT'S OUR JOB TO MAKE THIS EASY FOR YOU

Who Are We ?
Smile Antalya has grown to be the largest facilitator of dental services in Turkey to the international community.

Locations
Kemerağzı Mah., Yaşar Sobutay Bulvarı, Tekin Plaza No:304 D:23 Kundu/Antalya

FDA Approved
The Dental Implants are approved by the FDA and come with a lifetime guarantee.

Travel Plans
We can advise on every aspect of your travel including flights, hotels, airport transfers and specialist travel insurance.

Technology
3D smile design software and CAD/ CAM technology enabling the dental professionals to provide any smile design and tooth shape. Only available in high-end clinics, this technology gives you full control of the end result.

Treatment
Both accurate and safe treatment planning by the use of sophisticated technology including Panoramic X-ray and 3D Tomographic scanning.